Block title
Block content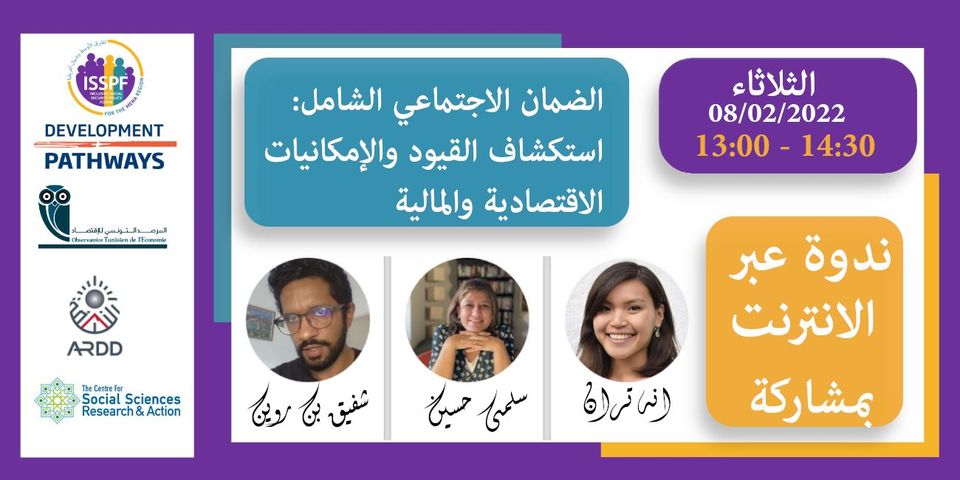 On 8 February at 12pm GMT, the Inclusive Social Security Policy Forum (ISSPF) in the MENA region is holding the webinar 'Inclusive social security: exploring economic and fiscal constraints and possibilities'. Hosted by Development Pathways, this webinar will strengthen knowledge on inclusive social security, specifically targeted at the MENA region.
Our panel discussion, followed by Q&A, will focus on International Financial Institutions' (IFIs) influence on inclusive social security in the region, the impact of inclusive social security impact on growth and building fiscal space for inclusive social security.
The webinar will be conducted in English and Arabic. To register for this free event, visit Eventbrite.
We are pleased to welcome experts with a wealth of knowledge to our panel for this event:
Chafik Ben Rouine, Co-Founder and President, Tunisian Observatory of Economy
Anh Tran, Social Policy Specialist, Development Pathways
Salma Hussein, Regional Research Manager, Friedrich Ebert Stiftung (FES) MENA.
Report of the
the Inclusive Social Security Policy Forum (ISSPF) week in Tunisia
As part of the ISSPF Mena project to promote social protection in Tunisia and the MENA region, the Tunisian Observatory of the Economy in partnership with Developpent Pathways, the Center for Research and Action in Social Sciences (Lebanon), and Arab Renaissance for Democracy and Development (Jordan) launched the "Inclusive Social Security Policies Week".
Two days of training sessions took place on November 15 and 16, 2021 in Tunis and online, with the aim of strengthening the participants' capacities on inclusive social security policies through different modules
The National Day of the Inclusive Social Security Policy Forum (ISSPF) took place in Tunisia on November 17, 2021.
The national conference brought together 22 guest participants, representatives of civil society and official authorities such as the CRES CNAM CNRPS CNSS and the Ministry of Social Affairs, bringing various perspectives to the reflections and solutions to current issues relating to social security policies in Tunisia.
The conference aimed at presenting an OTE study of the Tunisian social security system to further discuss its results and the topic and general in order to finally suggest some actions to be taken to make social security more inclusive. Following the presentation of the study, the participants contributed spontaneously to the dialogue, with questions, definitions or comments expanding and strengthening the thinking. The covered topics included for instance the legal framework, the categories of beneficiaries and contributors for the funding of social security schemes.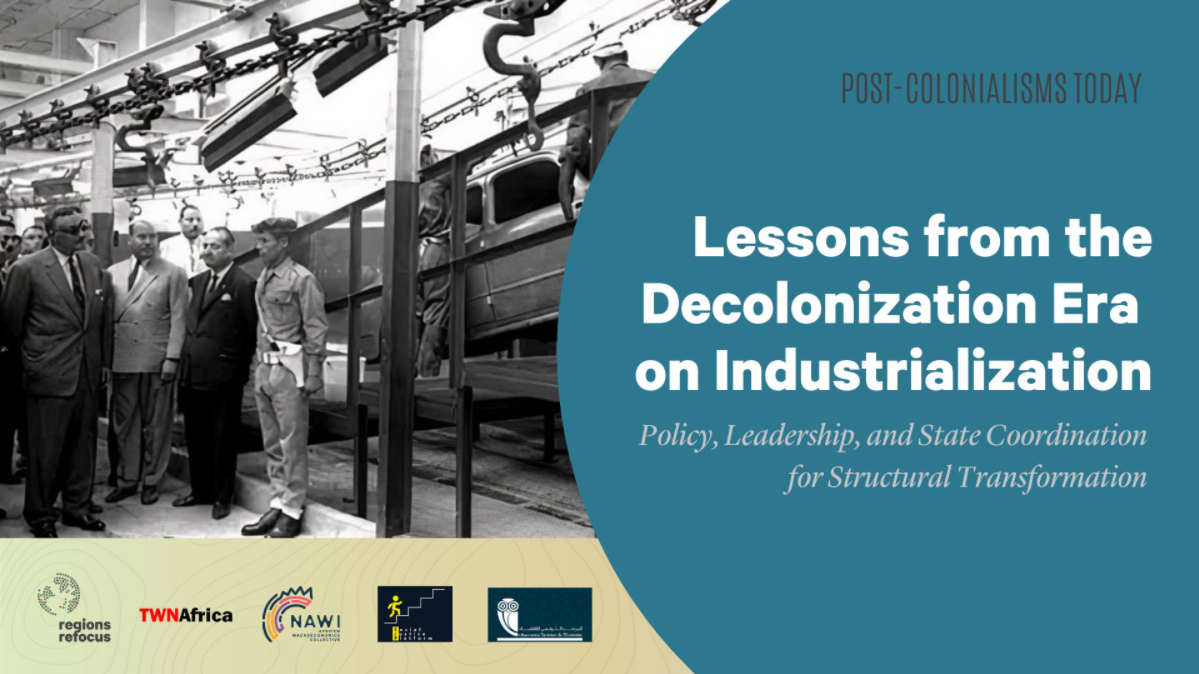 Lessons from the Decolonization era on Industrialization HAPPENING NOW! Watch the livestream here: https://fb.watch/40EwymXuVD/ * * Post-Colonialisms Today (PCT) invites you to join us for a virtual event on early post-independence efforts toward industrialization and structural transformation in Africa, and their lessons for today. *Please REGISTER at bit.ly/Decol-Industrial to join the discussion.* Panelists will examine three key aspects–industrialization policies that center peoples' needs; development visions of post-independence leaders; and state coordination of sectors of the economy and society towards transformation. The panel will be followed by a plenary discussion where we look forward to participants' engagement. The discussion will also be livestreamed to Facebook. We welcome your questions or comments at postcolonialismstoday@regionsrefocus.org. Learn more about Post-Colonialisms Today at bit.ly/WhatIsPCT, and watch our previous events on lessons from the decolonization era to confront the COVID-19 crisis at bit.ly/DecolCovid and on primary commodity export dependence at bit.ly/Decol-Resources. The event will take place at the following time for 90 minutes: Thursday, 4 March 2021 2–3:30 PM Accra, Dakar 3–4:30 PM Tunis, Lagos 4–5:30 PM Cairo, Johannesburg 5–6:30 PM Nairobi, Addis Ababa * SPEAKERS: * - Kareem Megahed is a researcher with Post-Colonialisms Today.