Lessons from the Decolonization era on Industrialization
HAPPENING NOW! Watch the livestream here: https://fb.watch/40EwymXuVD/
*
*
Post-Colonialisms Today (PCT) invites you to join us for a virtual event on early post-independence efforts toward industrialization and structural transformation in Africa, and their lessons for today. *Please REGISTER at bit.ly/Decol-Industrial to join the discussion.*
Panelists will examine three key aspects–industrialization policies that center peoples' needs; development visions of post-independence leaders; and state coordination of sectors of the economy and society towards transformation. The panel will be followed by a plenary discussion where we look forward to participants' engagement. The discussion will also be livestreamed to Facebook.
We welcome your questions or comments at postcolonialismstoday@regionsrefocus.org. Learn more about Post-Colonialisms Today at bit.ly/WhatIsPCT, and watch our previous events on lessons from the decolonization era to confront the COVID-19 crisis at bit.ly/DecolCovid and on primary commodity export dependence at bit.ly/Decol-Resources.
The event will take place at the following time for 90 minutes:
Thursday, 4 March 2021
2–3:30 PM Accra, Dakar
3–4:30 PM Tunis, Lagos
4–5:30 PM Cairo, Johannesburg
5–6:30 PM Nairobi, Addis Ababa
* SPEAKERS: *
- Kareem Megahed is a researcher with Post-Colonialisms Today. He finished his Master's in Political Economy at the University of Manchester in 2017, where he wrote his thesis on Egypt's 1919 revolution and its economic nationalism, and he studied political science and history at the American University in Cairo (AUC). Previously, he worked as a teaching assistant in the department of Political Science in AUC and for two years he was a researcher at the Economic and Business History Research Center (EBHRC) in AUC.
- Omar Ghannam is a researcher with Post-Colonialisms Today. Omar attained a Bachelor of Arts in Political Economy from the American University in Cairo (AUC) and is currently pursuing his master's degree at the same institution with a focus on debt and imperialism. Previously, he was the Operations Director of a marketing firm and media production house, and he headed the economic justice program for the Egyptian Center for Economic and Social Rights (ECESR). He currently sits on the Board of Directors of Tax Justice Network-Africa (TJN-A) as the constituent representative of North Africa.
- Jimi Adesina is Professor and the DST/NRF SARChI Chair in Social Policy at the College of Graduate Studies, University of South Africa in South Africa, and a researcher with Post-Colonialisms Today. Educated at the University of Ibadan (Nigeria) and Warwick University (UK), he served on the Executive Committee of the CODESRIA, and was Chair of its Programme Sub-Committee. A past President of the South African Sociological Association, he was elected to the Academy of Science of South Africa in 2005. He serves on the Board of the UN Research Institute for Social Development and the Board of RC19 of the International Sociological Association. His research interests include sociology, social policy, and the political economy of Africa's development. He has published widely in these areas.
- Akua Opokua Britwum is Associate Professor of Gender and Labour Studies at the Institute for Development Studies, University of Cape Coast and a researcher for Post-Colonialisms Today. She previously served as Director of the Centre for Gender, Research, Advocacy, and Documentation. Her interests cover gender-based violence and gender and economic policy, as well as trade union democracy and informal sector labour force organization.
- Alemayehu Geda (Chair/Discussant), Alemayehu Geda did his BA in Economics in the Department of Economics, Addis Ababa University. Then between 1991-1998 he did his MA and PhD at the Institute of Social Studies (ISS), at Erasmus University in The Netherlands. Since then he has been working on macro model building and international economics in Africa, and has been teaching at the University of London, SOAS, Department of Economics, UK. He is currently teaching in the Department of Economics, Addis Ababa University.
* FACILITATORS: *
- Crystal Simeoni has 10 years experience working on macro level inequalities. She currently works on women's rights and macroeconomic policy at continental and global policy spaces. She champions for and works with women at all levels to be able to influence, analyze, deconstruct and reconstruct macroeconomic policy decision making through an intersectional Pan African Feminist lens. She is currently an Atlantic Fellow for Social and Economic Equity, director at Nawi: Afrifem Macroeconomics Collective, and a member of the Post-Colonialisms Today Working Group.
- Tetteh Hormeku-Ajei is the Head of Programmes at the Third World Network-Africa and a member of the Post-Colonialisms Today Working Group. He holds an LLM in International Economic Law and has more than 20 years of experience in international trade and investment policy and negotiations. His work has been informed by fundamental questions of Africa's economic developmental challenges.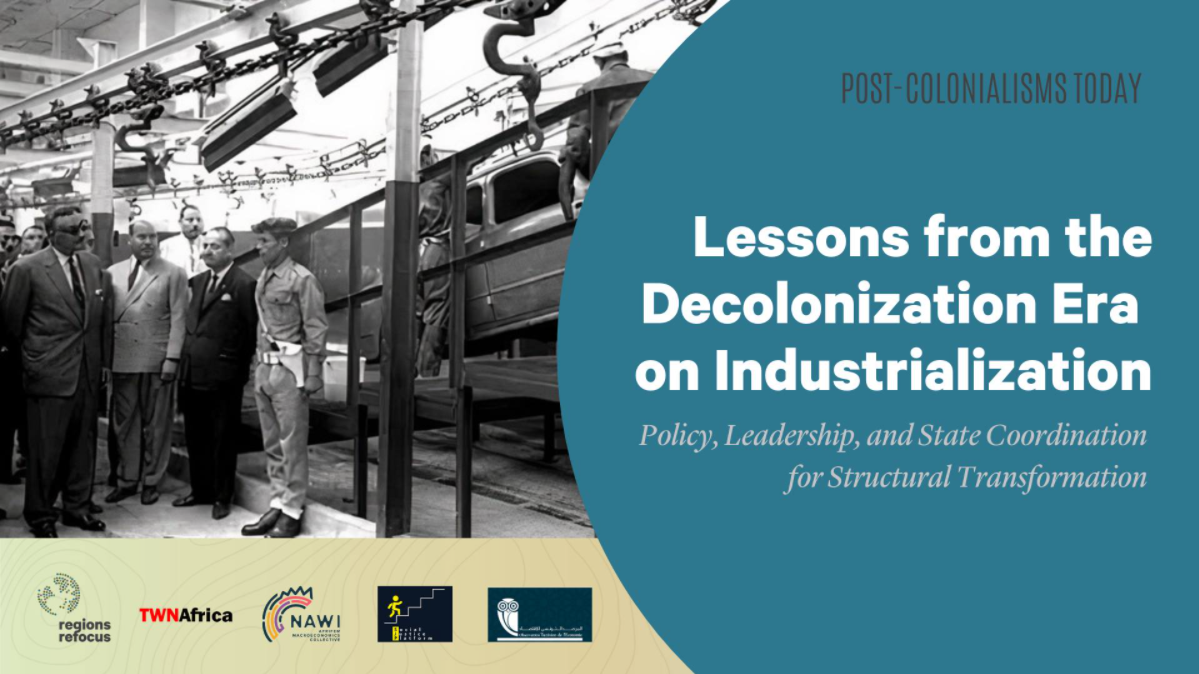 Details
Date:
Thursday, March 4, 2021 - 17:39